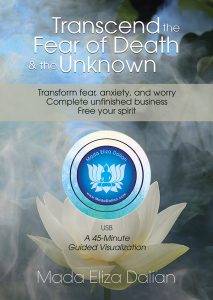 by Mada Eliza Dalian
A beautifully crafted guided visualization to help us dis-identify from the fear of death and the unknown, finish unfinished business, cultivate trust, deepen awareness of our eternal being, and facilitate the process of healing into consciousness.
$19.99
Transcend the Fear of Death & the Unknown Guided Meditation
Transcend the Fear of Death is a powerful meditation, written and guided by Mada Eliza Dalian. It can help you dis-identify from the fear of death and the unknown, finish unfinished business, deepen self-awareness, increase self-trust, and facilitate the process of healing into consciousness. It allows you to let go of your attachments to your body, emotions, things and people and helps you surrender to the abundance available all around you and open your consciousness to many new possibilities. During the meditation you will have an opportunity to openly express what's in your heart and mind, and free your being from repressed pain and fear.
Mada Eliza Dalian
Mada Eliza Dalian, affectionately known as Mada, is a self-realized mystic, internationally acclaimed master healer, spiritual teacher, best-selling award-winning author, and the founder of the evolutionary Dalian Method™.
Mada's quest for truth began at the age of five when she witnessed her grandfather's death and started asking herself: Who am I? Where do I come from? Where will I go when I die?
At the age of twenty-four, she left behind her training in education and architecture and devoted herself to the search for truth and spiritual enlightenment. After years of meditation and searching for truth, she was blessed with several profound experiences that ultimately lead to a powerful awakening at the age of thirty-three.
Mada is like a human X-ray machine who, with razor-sharp accuracy, is able to see through the layers of people's unconscious, read the repressed belief patterns in their bodies that cause pain and suffering, and help transform what is unconscious in the person into consciousness.
In 2009, fifteen years after treating thousands of people with her method in a private practice with outstanding success, Mada devised the self-healing Dalian Method™ to help benefit even more people. As the originator and guardian of this advanced healing system, Mada fosters a revolution in how healing and transformation can be realized. She offers seminars, workshops, online courses, retreats, private sessions, and teacher trainings to people world-wide. www.MadaDalian.com
Praise
"Here it is Sunday morning again and I just finished the Transcending the Fear of Death visualization. I was quite fearful of doing it because I've always feared death. This fear really became magnified after my mother died of throat cancer because it was very traumatic for me to witness and she never came to terms with dying.
The visualization was very powerful and Eliza Mada Dalian you lead it with such sensitivity and wisdom that it was a beautiful experience! My heart was very tight and closed when I got there but when I allowed it to open, so did the flood gates! I had a really hard time letting go of my attachments to loved ones….nothing else but that. I definitely have not lived my life to the fullest up to this point and want to change that from here on out."
~ Carrie D, Victoria, BC
"This guided meditation through the process of dying of the body is an excellent tool to support liberation from fear of death and all kinds of other fears and blockages.
I did it daily over a period of 3 weeks during which consciousness expanded it became clearer and clearer that every moment of life is a precious opportunity for sharing rather than holding back due to angst of being judged or wrong. A lot of gratefulness, forgiveness, love, courage to live authentically without holding back, bliss and connection with the absolute were experienced. These were not just a mental exercises but much deeper experiences. Paradoxically in the apparently fearful subject of dying there is a lot of joy, liberation and expansion of consciousness. Try and find out."
~ Reinhold – father, international sales director, Physics dip.
"I just wanted to mention that after the last tele-class with Eliza Mada Dalian…I did the meditation 'Transcending the Fear of Death & the Unknown' with the mp3 and tears started rolling down my face during the meditation. These tears were not anything from this lifetime, but from some other energy body within my energy field… the meditation itself must be releasing energies stored in my cellular memory somewhere. This is soooo cool….thank you Mada for helping me to become more aware of these thought forms imprinted in my body as I have begun to embark upon another journey towards truth."
~ Arlene