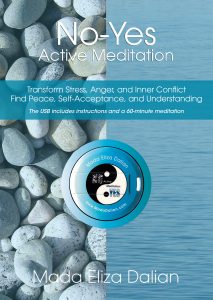 by Mada Eliza Dalian
A favourite of many, the No-Yes is a powerful active meditation technique to help detoxify the body of repressed negative emotions, anxiety, and stress, allowing the practitioner to experience inner peace, clarity, and joy of living.
USB: $18.99
UPC: 06129734677
MP3: $11.99
About the No-Yes Active Meditation
Throughout life we continually say "Yes" to people and situations even when we feel like saying "No." When we repress our true feelings, we become artificial and create tension and stress for ourselves and others. In this way, we stop ourselves from living and experiencing life fully and authentically.
If you have felt like saying No but kept saying Yes to people and situations because you were afraid to be impolite, hurt others' feelings, or be rejected, the No-Yes Active Meditation will help you to quickly and safely release your repressed negative emotions and transform them into authentic Yes to yourself and life. This is a powerful at-home practice for those who strive to understand themselves, de-stress, and dis-identify from their mind and emotions.
The No – Yes Active Meditation will:
Detoxify the body of repressed anxiety, stress, sadness, fear, and anger
Dissolve energetic blocks that cause inner unrest, depression, pain, and illness
Purify the seven energy centers (chakras)
Heal old wounds
Change the body's molecular structure
Increase self-esteem
Build healthy boundaries
Highten overall energetic frequency
Enhance the feeling of peace and presence in the Now!
The instructions and music on the CD are specifically designed to bring to the surface the emotions repressed in the body's cellular memory and transform them into higher vibration of understanding, love, forgiveness, and compassion for self and others. Even occasional practice with this unique technique will help you feel good about yourself, others, and life and experience the authentic Yes that resides within the depth of your being.
Note: This meditation is also an excellent tool for anger management consultants, counselors and psychologists when recommending self-help tools to their clients or working with them in a group setting.
Mada Eliza Dalian
Mada Eliza Dalian is a self-realized mystic, internationally acclaimed master healer, spiritual teacher, best-selling award-winning author, and the founder of the evolutionary Dalian Method™.
Mada's quest for truth began at the age of five when she witnessed her grandfather's death and started asking herself: Who am I? Where do I come from? Where will I go when I die?
At the age of twenty-four, she left behind her training in education and architecture and devoted herself to the search for truth and spiritual enlightenment. After years of meditation and searching for truth, she was blessed with several profound experiences that ultimately lead to a powerful awakening at the age of thirty-three.
Mada is like a human X-ray machine who, with razor-sharp accuracy, is able to see through the layers of people's unconscious, read the repressed belief patterns in their bodies that cause pain and suffering, and help transform what is unconscious in the person into consciousness.
In 2009, fifteen years after treating thousands of people with her method in a private practice with outstanding success, Mada devised the self-healing Dalian Method™ to help benefit even more people. As the originator and guardian of this advanced healing system, Mada fosters a revolution in how healing and transformation can be realized. She offers seminars, workshops, online courses, retreats, private sessions, and teacher trainings to people world-wide. www.MadaDalian.com
Creation of the No-Yes Active Meditation
In 1991, while reading one of Osho's darshan diaries (talks transcribed from his intimate meetings with disciples), I came across a suggestion he made to a woman to help transform her negative thoughts into positive and balance her energies. He suggested she repeatedly say "No" for forty minutes and then switch to saying "Yes" for twenty minutes. I felt the wisdom and the power behind his advice and was inspired to experiment with it myself and in my groups. The results were amazingly transformative. I saw how quickly people were able to access and release the multiple layers of suppressed negative emotions like anger, resentment, sadness, blame, and judgments, and transform them into self-acceptance, love, gratitude, and joy without needing to engage their mind in any psychological activity.
I quickly noticed, however, that most people were having difficulty switching immediately from "No" to "Yes." I realized that, similar to the gap that exists between the incoming and the outgoing breaths, a small transition stage of stillness and silence was necessary to help shift gears between these contradictory stages. After adding this gap (which I'm sure Osho would have added had he experimented with his suggestion further) a new meditation was born.
I then spent almost a year working with a musician on the "No" phase of the meditation to create the vibrations needed to bring to the surface what has been repressed in the body, so it can be easily released and transformed into self acceptance, understanding, trust and celebration of one's own life. This meditation is dedicated to Osho and his work.
Praise
"I want to thank you for some very powerful cathartic experiences I had when I practiced your No – Yes Active Meditation. Even though I was very skeptical that anything would happen by just saying "No", I had an incredible experience of actually realizing that all my self-loathing and non-deservedness was self-imposed – from bad things I had done in past lives and holding myself responsible all this time. It further evolved into my asking for forgiveness and, most importantly, forgiving myself. This created a huge shift within me and I am now a different person. Thank you, thank you, thank you!!!"
~ Dave Dodge, L.C.S.W.
"With the No-Yes meditation I was able to feel that my heart was covered with layers of unexpressed NOs. With the release of the NOs during the meditation, the density of the cloud reduced. I felt the blocked energy releasing, my heart opening more and more, and the mind activity reducing, as though slowly healing the repressed layers into consciousness. Expressing the YES without holding anything back brought much joy into my being. This meditation is very liberating. Thanks for this treasure!"
~ Reinhold Guthier, father, Physicist
"The No-Yes meditation is very powerful… a safe vehicle for working through the layers to become authentic again, remembering our original purpose and essence. I have instructed hundreds in meditation and would recommend this as a fast track to healing."
~ Wanda Mae Anderson, meditation instructor
"It was a great help in releasing years of disappointment in myself for not being able to do this [say "no"] as it came up in my life. Releasing the years of not being able to be myself."
~ S. Spence. RN, RM
"Opening my heart to a deeper 'Yes' and a stronger 'No' was insightful & freeing. It deepened my sense of self, strengthened my personal power and resolution, and opened my heart to a deeper allowance of spiritual energy and divine joy."
~ Paul Scott, Transpersonal Counselor
"I love the No-Yes Meditation… I actually re-experienced my whole birth. My mother was knocked out on chloroform. I was pulled out by forceps and slapped on the butt. Then I was bottle fed, and never bonded with my mother… I was able to change all that in the 'Yes' part. It was wonderful!"
~ Sheila Gail, Radio host
"This meditation was very helpful…I feel present, clear and at peace."
~ Lenka Leduc, CHHP
"The movement of inner energy was amazing. Very effective and fast."
~ Joseph Tyls
"I felt a tremendous release of pain and emotions that were in my body. I felt a lot of heaviness was released from my body and mind. Thank you for an amazing experience."
~ Paul Molund, PhD
"I found the "no" very powerful. At first it was difficult, I had a hard time breathing, and experienced some coughing, as if I was expelling years of "crap," that happened to me in my life. It was extremely profound and freeing. The No-Yes meditation brings you in touch with your body and what's happening in the here and now."
~ Judy Nagy
"The No-Yes meditation is a great way to release old blocks, access one's true feelings about certain issues, trust one's decisions, create community and connectedness, find gentle strength and quiet power, and learn to be more alert to the present and to our subtle decision-maker."
~ Fabiana Katz, MA
"I had suffered from concussion pain from early childhood. During the meditation I discovered that I made up the story of the concussion not to participate in competitions. Ironically I also wanted to be a super star. I also used to have chronic pain in my back, and when I realized that I made up the story, something in my head opened and released the back pain."
~ Tanya Dennis, professional athlete
"I am in love with this meditation. When I practice it, lots of power and energy comes up in my body and I feel full of life. I feel centered and expansive at the same time. I am able to tap into my inner being way easier than in any other meditation. The power, excitement, energy and true happiness that I feel during this meditation has opened me up to experiencing life in a totally new way."
~ J Gibson, BSc
"I have used this CD multiple times and am delighted with the layers of sadness and upset that were released with it. It has helped me to de-clogg my inside, all by simply using two words!! The music is extremely powerful. My anger has surfaced naturally with it and then dissolved miraculously. I would recommend it to anyone that wants to lighten their body from stress! It is so easy to use."
~ Unleashed, amazon reviewer
"If you are honestly knowing that now is the time to stop your hurts and disappointments dictating your behavior patterns and therefore the way you live your life, buy this CD. This music is so good… Find out what you want in this one life you have. Give the NO-YES mediation a go."
~ RH, Amazon Review