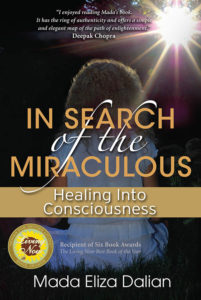 by Mada Eliza Dalian
A step-by-step guidebook to everyone's journey of healing and transformation from fear, pain, and suffering into enlightened consciousness.
Book: $19.97
ISBN: 978-0-9738773-3-5
(second edition)
eBook: $10.99
ISBN: 978-0-9738773-4-2
A Step-by-Step Guidebook to Awaken Your Inner Master
"In Search of the Miraculous: Healing into Consciousness is like a mirror that reflects whatever is within us. Every line is a potential arrow that might expose something hidden within our unconsciousness and help us come a step closer to our true Self."
~ Jesse Carliner, Editor, MA Eastern Studies
"I enjoyed reading Mada's book, In Search of the Miraculous: Healing Into Consciousness. It has the ring of authenticity and offers a simple and elegant map of the path of enlightenment."
~ Deepak Chopra
This seven time award-winning best-selling guidebook is for those who wish to understand what life and their journey here is all about. It is for those who wish to find their inner master and know the steps they need to take to liberate their being from the ego-mind and find spiritual enlightenment. This timeless jewel provides a fresh new perspective on healing, personal development, and living in the Now.
Dalian's "against the grain" advocacy that the ego needs to be strengthened and healed from its wounded state into a healthy state before it can be surrendered, reflects a spiritual warrior who thinks outside the box. The reader is refreshingly relieved from their personal struggle against the ego as the author reveals its significance and purpose. Step-by-step she compassionately takes us through the seven stages of its development to the point of its final surrender and transformation.
This timeless spiritual classic will help you discover:
The seven stages of ego's development
Practical ways to transform thoughts into consciousness
Exercises to practice surrendering to what is
Techniques to dissolve mental and emotional blockages
How to purify the body and the seven energy points or chakras
Ways to break through the three veils of illusion
How to make friends with your inner silence
The author's personal journey towards awakening and the Q & A sections at the end of each chapter make the topics covered in each chapter more personal and down-to-earth.
Regardless of one's religious beliefs, this book is a thought-provoking mind feast and an intricate step-by-step road map of the journey to awakening. As a unique guide to living consciously in the now it will delight anyone interested in personal and spiritual transformation from ego into consciousness!
Mada Eliza Dalian
Mada Eliza Dalian is a self-realized mystic, internationally acclaimed master healer, spiritual teacher, best-selling award-winning author, and the founder of the evolutionary Dalian Method™.
Mada's quest for truth began at the age of five when she witnessed her grandfather's death and started asking herself: Who am I? Where do I come from? Where will I go when I die?
At the age of twenty-four, she left behind her training in education and architecture and devoted herself to the search for truth and spiritual enlightenment. After years of meditation and searching for truth, she was blessed with several profound experiences that ultimately lead to a powerful awakening at the age of thirty-three.
Mada is like a human X-ray machine who, with razor-sharp accuracy, is able to see through the layers of people's unconscious, read the repressed belief patterns in their bodies that cause pain and suffering, and help transform what is unconscious in the person into consciousness.
In 2009, fifteen years after treating thousands of people with her method in a private practice with outstanding success, Mada devised the self-healing Dalian Method™ to help benefit even more people. As the originator and guardian of this advanced healing system, Mada fosters a revolution in how healing and transformation can be realized. She offers seminars, workshops, online courses, retreats, private sessions, and teacher trainings to people world-wide. www.MadaDalian.com
Praise
"I enjoyed reading Mada's book, In Search of the Miraculous: Healing Into Consciousness. It has the ring of authenticity and offers a simple and elegant map of the path of enlightenment."
~ Deepak Chopra
"For anyone interested in learning about the state of enlightenment and achieving it, Mada's book is essential reading."
~ Jerry Gin, Ph.D, Biochemist, Director, Foundation for Mind Being Research
"The concepts covered in this book take the concepts covered in Eckhart Tolle's books a couple of notches further. I am quite excited about this book because there is a lot of new material to integrate into my toolkit of understanding, which to me doesn't happen very often. It feels like a new door opening and a whole bunch of work is now possible."
~ Dr. Dorle Kneifel, M.D.
"In the many years of knowing Eliza Mada Dalian personally, I have come to appreciate and honor her as a deep, courageous, and mystical soul. This book reflects her qualities in such a way that it can be a guiding light on the spiritual path."
~ Deva Premal, international recording artist
"This book is absolutely loaded with wonderful content, clearly expressed, and very, very helpful. It is for serious people who are committed to their personal and spiritual growth."
~ Constance Kellough, publisher, Namaste Publishing, and author of The Leap: Are You Ready to Live a New Reality?
"This book is an essential how-to manual for living in the Now… "
~ Rob Spears, Conscious Talk Radio
"In Search of the Miraculous: Healing into Consciousness goes a lot further than Eckhart Tolle's work because when he tells you about the what Mada actually demonstrates the how."
~ Sandra Sedgbeer, author and publisher
"For those who seek enlightenment, this book is a sparkling jewel. Bursting with specific exercises and extraordinary meditations to help heal individual blockages, the book is supremely practical. I found it to be both a thought-provoking mind feast and a step-by-step roadmap to healing. Eliza Mada Dalian belongs right alongside Eckhart Tolle and Byron Katie as a master teacher. I will use her book for a long time to come."
~ L. Elstrom, Ashville, NC
"There are many books that I get across my desk, and many of them are amazing, but every once in a while I get a book that is extraordinary, and this [In Search of the Miraculous: Healing into Consciousness] is one of those books… There is going to come a day when we are not going to talk about healing as miraculous. Though we are not there yet, thanks to the work of Eliza Mada Dalian, her book, and her healing method that day will come much quicker! This groundbreaking healing method that Mada has created is for everyone…"
~ Dr. Pat Baccili, The Dr. Pat Show
"Thank you Mada for being a conduit for this truly inspiring and transformational work. Your work is critically important for the world now…!"
~ Brenda Michaels, Conscious Talk Radio
"If you want to discover how to live as a fully conscious being in the world while simultaneously undertaking your spiritual journey, In Search of the Miraculous, a multi-award winner, contains the signposts to follow"
~ Jeanette J. Jennis, US Review of Books
"This is a wonderful book and much needed for the world. In this book, Eliza Mada Dalian has carefully covered all the bases of human spiritual growth and transformation. She makes a lot of very insightful observations about how the human mind works and the frustration we create for ourselves with the ego. I highly recommend this book with its clear, engaging instruction and straightforward presentation of spiritual insights. This book is full of kindness, love, blessings, and soul: It will open your heart! It would be a worthy addition to the collection of anyone interested in the spiritual journey and learning to bring the mind and thoughts into the NOW!"
~ Dr. Tracy Austin, Ph.D
"This is a very comprehensive and thorough exposition of the journey of the ego into full consciousness."
~ James White, MA Political Science
"This book is a beautiful guide to awakening to your higher consciousness. Eliza Mada Dalian explains in a beautiful way what awakening/ enlightenment means and by describing her own awakening one gets a really rare view into the state of an awakened being. Never have I read before such a detailed description of what self-realization means, including all the emotions and thoughts etc. The beautiful meditations can be a guide to start the inner journey to healing into consciousness. I love this book! thank you, Mada!"
~ Theresa Weisskircher
"When I found this book I felt, why this kind of information in not taught in the school system? This to me is the kind of information that every human being on the planet needs to have in their conscious awareness to understand what the real game of life is about."
~ Jeff Ferannini, Host of Planetary Spirit Radio
"This book is an invaluable owner's manual for spiritual growth and transformation – a must read for any serious seeker! Like a lighthouse in a foggy world, Eliza Mada Dalian offers many meaningful and valuable insights and shows how to navigate one's life through the perplexities and paradoxes of our human existence. Had I read this book twenty years ago, it would have spared me much pain, time, and unnecessary effort."
~ Albert Sturm, BA Humanities, broadcaster
"This is a book not to be missed by those who want to start their search for liberation from fear and pain. Just reading it is a healing experience in itself. It's a step-by-step guide to the journey into consciousness. The author explains things in such a simple and clear way that it is impossible not to understand. This is a book not to be missed also by those who are already on their way to self-realization because it helps them to take a further step towards the miraculous."
~ Anna Amendolagine, M.A. Cultural Heritage, freelance journalist
"This book is among the most spiritually powerful, inspiring, and fulfilling books I have ever read. It provided me with incredible wisdom and insight on the practical steps I need to take to connect with my true self and live a life of lasting and unshakable joy. Applying these steps to my own life has instigated profound personal growth and transformation. This book will be an extremely valuable tool for anyone embarking on their spiritual journey with sincerity and dedication. Mada Dalian revisits the same essential message from many angles, providing a sustenance beyond the words that makes me want to read the book again and again."
~ Stephanie Walker, BA Psychology
"The author takes us on a healing journey through her poetic descriptions of the human and spiritual experience and her clear, precise directions on how to use this human incarnation, with all of its pain and suffering, for spiritual awakening. The book is beautifully written, inspiring, and practical at the same time. Mada Dalian gives sophisticated abstract principles interspersed with daily life exercises, meditations, and insightful questions and answers between her and her students. This book will delight anyone looking for an integrated, grounded, and sometimes surprising approach to spiritual growth."
~ Brenda Dyer, MA English Literature (Oxford), MA Psychology (UBC), PhD Counseling Psychology (UBC)
"A timely and profoundly helpful book for anyone who is ready to transform their life. Reading the book is a meditation and a practice unto itself. I repeatedly experienced a deep vastness and silence that the words seemed to effortlessly float upon.The book is compassionately written with a deep reverence for that which cannot be expressed and yet powerfully points our awareness to it. I found myself looking forward to sitting down with the book every day and enjoying the centering effect it had on me. Mada's telling of her story through her many lives is most inspirational. Reading it gave me understanding, hope, and encouragement for my own journey. It is exciting to read something that is such a beacon of transformation, healing, and consciousness."
~ Jennifer Anderson, mental health worker
"This book was a delight to read, with many ideas and concepts that were new to me. Healing into Consciousness provided me with resonating insights and a fresh perspective into spiritual growth. I very much recommend this book to anyone who wishes to progress along their own spiritual path."
~ Derek White, metallurgical researcher, business owner
"In his book The Hero with a Thousand Faces, Joseph Campbell writes: 'A hero ventures forth from the world of common day into a region of supernatural wonder: fabulous forces are there encountered and a decisive victory is won: the hero comes back from this mysterious adventure with the power to bestow boons on his fellow man.' Mada's life journey took her on a long and rocky road of trials until she found the path that led her out of the dark forest – the path to consciousness. With this amazing book, which most of us can resonate with, Mada has 'returned from her adventure' to shine her bright light along our road of trials to help each one of us find our own path out of the dark forest."
~ Peter D. Marshall, filmmaker
"Reading the book has been a transformative experience. It is somehow magically filled with the love and graciousness that Mada Dalian emanates herself. Each time I read it, I felt myself becoming more and more centered to the point where it seemed the words actually entered my being and filled me with light. As if that wasn't enough, the book is absolutely packed full of practical, simple suggestions and exercises for healing that can be easily integrated into today's lifestyle. This is a book I will refer to over and over again. I will eagerly recommend it to all those I work with, as well as family and friends."
~ Kim H. Roth, MA, Body-centered Psychotherapist, Ashtanga Yoga Teacher
"For those of us striving for personal fulfillment and reaching the point of truly living in the moment, I find this book guides and gives you the tools to reach a state of "being". A must read for all who are interested in personal growth."
~ H. Papazian
"I love your book! The material is very well-organized and thought out, also, very well-written. It is helping me to take my understanding of "presence" to a new level. Thank you for this gift."
~ Diane Riley, nurse
"l stumbled upon Mada's book at Chapters. I knew instinctively I had to read it! When I opened the book and began reading, I cried. Something inside me knew I was getting close to home and had found a long lost friend; another guide on my journey. Mada and this amazing book was my next step in anchoring me deeper into my true self. I did my first session with Mada less than a week later over the phone, as we both live on opposite coasts. I would have flown there to meet with her if I had to. Her insight into my blocks was monumental as was the technique she used to release these blocks. I have released a lifetime of patterns that no longer serve me. Her gentleness, humor and lightness instantly put me at ease. Mada is a powerful force for transformation. I highly recommend working with her or reading her book."
~ Patricia H.
"Although there are many books written about the subject of spirituality, and I have read some of them, this book is one of the most revealing ones that people can read… It facilitates a travel to the center of one's being that everyone can understand and relate to."
~ Francisco Javier Moreno Jimenez, Marketing Consultant
"A lovely book filled with much truth and teaching. So many people would benefit from it if they just took the time."
~ Reviewer, Benjamin Franklin Awards
"A plethora of information regarding physical and spiritual wholeness. This read can lead to healing and a more fulfilled life."
~ Reviewer, Benjamin Franklin Awards
"This book is an excellent addition to my library. It's extremely well-written and has all kinds of practical information I have not found in other "spiritual awakening" books. It also answers a lot of questions I've had for years but have never found answers for. I recommend it to everyone!"
~ Amazon Customer Review
"Your book is a wonderful creation, which opens the world to the person and the person to the world."
Andrey Risan, Kiev, Ukrain
"…I found Mada's book like a precious mini-encyclopedia. Everyone ranging from a newbie to an advanced person on his/her journey to consciousness can find wealth of information and get some real insight. I always prefer books which give you practical exercises to overcome your personal problems. I think Mada had done a great job in this respect by providing various, easy-to-apply techniques. The knowledge provided throughout the book is VERY original as well as realistic since it does not resemble any other book falling under the same category. I really enjoy the format of the book; it is written in a way that it may relate to anyone who is on their search of their own truth. I wonder how she was able to explain such complicated, hard-to-grasp concepts in such a plain way! Also I think she is very talented artist in using her words. She speaks very plain yet very thorough/precise- it is really hard to miss anything, she clarifies her concepts so well. I like the Q&A section at the end of the chapters which really complements the important knowledge explained previously…I am quite sure it would be one of my reference books even in a decade's time because as my consciousness would expand I would start to notice concepts and facts that I overlook beforehand or I would just gain deeper insights with each rereading! …Hope to see your book translated into Turkish too!"
~ Sibel Gunduz
"A must for everyone seriously interested in inviting spiritual transformation into their lives. A new star shines on the firmament of sincere spiritual advisors."
~ Bodhi Heeren, Copenhagen, Denmark
"After listening to a podcast of an interview with the author I felt moved to order this book. I've worked as a clinical social worker and in publishing mainstream books…Dalian's "against the grain" notions of how the ego needs to be strengthened in order, paradoxically, to be put aside and her advocacy of saying negative thoughts aloud before an out breath as opposed to repeating mantra-like positive affirmations that do not address unconscious thought forms in the body reflected a spiritual traveler who can think outside the box. The book is outstanding for it's precision, depth, ease, density of information, and uniqueness of format. Dalian leaves her personal odyssey for the ending chapters which showed spiritual humility and works well for those who tend to interpret information in terms of the sender. I'm glad to own the book and will recommend it to others because I think it will age very well will resonate with many."
~ Elise Dennis, New York
"Reading this book has transformed my life beyond words. This book is friendly and extremely practical, making the concept of enlightenment actually seem achievable. The book allows ease to set in a true seeker. I have subsequently met with the author and feel like a renewed human being. I genuinely feel I have moved forward "lifetimes" and am so grateful to have found this gem of a book which led me to Mada Thank you Mada dearest."
~ Barnes and Noble Customer Review
"There are many profound insights, suggestions and signposts for every seeker of truth. It's a refreshing and timeless book…Each time I read it I discover something new and deeper within myself."
~ Barnes and Noble Customer Review
"First of all the work you are doing and your new book are an incredible gift to me so, thank you! After reading and re-reading many of today's popular spiritual books even though I was very present while reading them and practiced the inner awareness all day, most days I could still sense an internal blockage, but until I read your book I was not aware of what it is. The way you illustrate the ego and how suppressed thoughts and feelings work in our bodies has likely kept me from chasing my tail for eternity. "
~ SL, Vancouver, BC
"Thank you very much for your book in Russian language. I have found it in the supermarket. I was looking for some wear and products there. I was passing by the shelf with books and my eyes stopped on your book. I could not even expect that it will be so great and quick guidance to myself. It helps me at the same time to stay in my heart, see moving thoughts and emotions, to fill silence inside and perceive the existence as it is. Before reading your book I went the same way but slowly. Now it's easier than before to have fun when I see the trouble and negative feelings. I knew that when I have problems and obstacles it teach me. But it was so difficult to pass them. Now I can enjoy it using guidance of my soul and existence. Every day is the travel and I know that existence loves me and prepare a lot of surprises. I'm glad to be here, to see people, to be in relationships, to breath and to be on the Earth!"
~ Olga Mukhacheva
Excerpts
Experiencing and knowing the being has been called enlightenment, self-realization, liberation, and union with God. I call it healing into consciousness… Like the phoenix that is reborn out of its own ashes, we are healed into consciousness through the fire of our destroyed ego-mind. Healing into consciousness includes both the search and the sudden moment of awakening to the truth that "I am what I have been searching for."
HEALING: THE JOURNEY INTO CONSCIOUSNESS
Health is a state of consciousness. It has nothing to do with age, illness, or even the health of the body or mind. Whether we are aware of it or not, every step we take towards healing is a step towards consciousness. Everything we do in life is part of our healing journey towards the ultimate health of our true nature.
Only consciousness can heal our pain and suffering. Each moment contains an opportunity to awaken from the suffering of the ego-mind into the health of consciousness. Our bodies are full of suppressed thoughts, emotions, fears, desires, insecurities, and judgments. These create and sustain our ego-mind. In our unconsciousness, we keep our identification and attachment to our body, emotions, desires, and the world. Many unconscious thoughts and emotions are stored layer upon layer as patterns hardwired into our body's cells. These patterns create energetic blocks in the body and cause physical and psychological pain and suffering. We heal into consciousness by peeling away these layers.
Only in our thoughts is there happiness and unhappiness, right and wrong, birth and death. When we stay identified with this ever-changing play of opposites that only exists in our mind, we fail to see what is permanent – the eternal presence of our being. As we get closer and closer to our being, we gradually move away from the duality of the mind and transform the ego into consciousness.
All our physical and psychological ailments point us to where we need to focus our attention so we can transform our energy into consciousness. Usually, we believe that our pain is a misfortune that needs to be fixed, but in fact, all pain (physical, mental, and emotional) is a necessary step towards becoming conscious. When we try to avoid pain, loneliness, and death, we also avoid finding our being.
In a very real way, all our pains are growing pains. When we are ready to heal from an unconscious belief or behavior pattern, we experience symptoms such as pain, anxiety, depression, and ill health. If we try to fix something on the outside instead of trying to find out the cause of our ailments from within, we continue to suffer. When we let go of our identification with who we think we are our body and DNA literally change.Healing into consciousness is the most arduous task that can ever be undertaken. There are many fears, obstacles, and ups and downs along the way. We need courage and trust to face the darkness of our unconscious. If we persevere and stay committed to our awakening, the journey will become easier and we will even begin to enjoy it and be excited by it. No matter how intense our pain and suffering, if we stay devoted to our healing journey, we will undoubtedly come face to face with the miraculous that abides within our own existence.
WHERE AM I? THE SEVEN STAGES OF THE HEALING JOURNEY
For those of you who are beginning your healing journey consciously, and for those of you who are already on your way, it might be helpful to think of your healing journey as a kind of "school of life," a process similar to our educational system. The school of life can be divided into seven stages that correspond to Pre-school, Elementary, High School, UndergraduateUniversity, GraduateUniversity, PhD Student, and finally Professor. Unlike the school system, however, this process is not linear, and the stages are not distinct, but rather subtly blend into one another. The stage at which you start your healing journey depends on the level of self-awareness you bring from your previous lives and your understanding of the journey itself. As you progress through the school of life, your awareness of yourself and the world increases and your consciousness expands. Depending on your choices and level of consciousness, you may move through some stages faster than others …
WITNESSING: THE KEY TO HEALING INTO CONSCIOUSNESS
We can only heal into consciousness through witnessing. Witnessing is an alert watchfulness of whatever is happening moment to moment without mental or emotional engagement. In other words, it is the detached, unidentified, and non-judgmental observation of what is. When we experience that we are not our mind, body, and emotions we are in consciousness. The only way to understand this is to observe the body, mind, and emotions.
Through self-observation, we can see that all of our sensations, thoughts, and emotions are impermanent – they always change and move like passing clouds. Seeing their impermanence helps us understand that all our pain and suffering is created by the ego-mind.
All our problems exist because we are unable to witness and disidentify from our thoughts and emotions. When we don't witness our mind and emotions, we remain caught in the story created by the ego-mind and continue to suffer. When we witness the mind and its story, we realize we are not the story but the observer of the story. When we simply observe our body and its sensations, thoughts, emotions, and everything that happens around us, we are out of the story.
We heal into consciousness with each moment of witnessing and disidentification, no matter how brief. Once we know we are nothing but consciousness, we are healed out of suffering. Our ability to witness is innate. The witness is part of our being. It is with us eternally, even after our bodies die. Even though the witness is always present watching everything coming and going, our awareness goes in and out of it. Witnessing is like a muscle that we need to strengthen through experience and practice. Meditation is the practice.
Book Awards
In Search of the Miraculous: Healing into Consciousness is a recipient of Seven Book Awards in 2009 and 2010: the Nautilus Award, as a book that can change the world, the Living Now Book of the Year Award, recognizing the year's very best lifestyle books that help readers attain healthier, more fulfilling and productive lives, the Eric Hoffer Award, recognizing excellence in independent publishing, a finalist in the Indie Books, Indie Excellence, the National Best Book Awards, and the International Book Awards.
Reviews
Review by Jeanette J. Jennis, The US Review of Books
"You heal into consciousness when you find the courage to fully embrace and face your ego and its desires."
With an open mind and courageous intention, Dalian embarked on her fantastic spiritual journey in her early twenties. Her search led to studying many paths and teachers, although the works of two famous mystics, Gurdgieff and Osho, made the greatest impression. With uncommon devotion, she desired to find answers to life's most perplexing questions, and along the way she discovered the miraculous and invites the reader to experience her extraordinary personal odyssey of healing into consciousness.
Key elements are profoundly explored chapter by chapter. Dalian provides a virtual spiritual roadmap that leads you into territory that may seem familiar, but takes on a different meaning when seen from her far-reaching perspective. She speaks with compassionate authority derived from years of observing the ego and its machinations; studying the seven chakras and applying their lessons; practicing unique visualization and breathing techniques; and discovering the immeasurable benefits of meditation. By personal examples, including past life memories, and wide-ranging guidelines throughout the book, Dalian shares her awakening experiences. "Enlightenment cannot be given or bought. Enlightenment is a gift that only comes through the grace of existence when you are ripe and ready to fully surrender your ego-mind and remember who you truly are." Dalian knows the journey.
If you want to discover how to live as a fully conscious being in the world while simultaneously undertaking your spiritual journey, In Search of the Miraculous, a multi-award winner, contains the signposts to follow. "You are postponing enlightenment and waiting for the moment of your death to experience it. Why not enjoy it while you are still alive?"